The Wintu Audubon Society, founded in 1975, is a chapter of the National Audubon Society serving Redding and the Shasta County area. The mission of the Wintu Audubon Society is to conserve and restore natural ecosystems, focusing on birds, other wildlife, and their habitats for the benefit of humanity and the earth's biological diversity. We promote enjoyment of the natural environment through education and interactive programs.
Wintu Audubon wants you!
Volunteer opportunities/chapter needs:
Leading field trips – one or two trips a year
Education – outreach to youth and adults
Website – website contributions and maintenance
Conservation – monitoring areas of interest for possible chapter action
Board Membership – help guide the direction of the chapter
The chapter supports creative contributions.  Contact: Webmaster@WintuAudubon.org for more information!
Please join us at our general meetings which are held the second Tuesday of the month at the United Way meeting room at 7 p.m. from September through May. The United Way is at 2280 Benton Drive, building B, next to the Senior Citizens and River Trail parking lot North of the Diestlehorst Bridge. See map
You're invited to join us on all of our Bird Walks. Youth/Beginning Bird Walks are designed for youth, grades 4-8 and up, and beginners of all ages.  We supply binoculars and field guides. During the Turtle Bay construction, we will meet at Venture Properties, the first left before the Convention Center (map) on the first Saturday of every month year-round, 9-11a.m., to learn the birds of our home town. Youth must be accompanied or signed in by an adult. Check the Calendar page for details.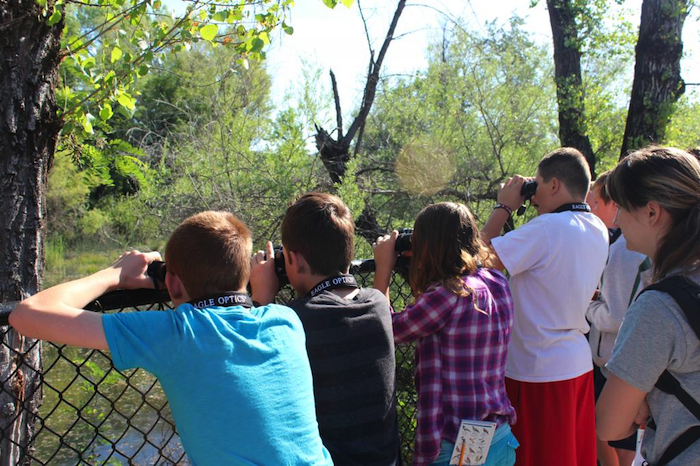 Our Second Saturday Bird Walks are held at various locations on the second Saturday of each month and our Local Weekday Bird Walks are held once a month on Thursdays. Most months we also offer a full day outing, usually to a destination out of town. All of these activities are open to the public; however due to high temperatures and low bird activity, these bird walks are suspended during the months of July and August. Check the Calendar Page for more information.
NOTE: Steady or heavy rain cancels bird walks.
Christmas Bird Counts Create a History of Information
Check out the latest article by our president, Dan Greaney, on our blog!
The Great Backyard Bird Count Is Almost Here
Launched in 1998 by the Cornell Lab of Ornithology and National Audubon Society, the Great Backyard Bird Count was the first online citizen-science project to collect data on wild birds and to display results in near real-time.
Now, more than 160,000 people of all ages and walks of life worldwide join the four-day count each February to create an annual snapshot of the distribution and abundance of birds.
We invite you to participate! For at least 15 minutes on one or more days of the count, February 16-19, 2018, simply tally the numbers and kinds of birds you see. You can count from any location, anywhere in the world, for as long as you wish!
If you're new to the count, or have not participated since before the 2013 merger with eBird, you must create a free online account to enter your checklists. If you already have an account, just use the same login name and password. If you have already participated in another Cornell Lab citizen-science project, you can use your existing login information, too.
Click here for more info on how to get started.
In 2017, Great Backyard Bird Count participants in more than 100 countries counted more than 6,200 species of birds on more than 180,000 checklists!
During the count, you can explore what others are seeing in your area or around the world. Share your bird photos by entering the photo contest, or enjoy images pouring in from across the globe. You can even add photos and sounds to your checklist. Read more.
Your help is needed every year to make the GBBC successful!
Then keep counting throughout the year with eBird, which uses the same system as the Great Backyard Bird Count to collect, store, and display data any time, all the time.
Birds of Klamath Falls
Here is your country. Cherish these natural wonders, cherish the natural resources, cherish the history and romance as a sacred heritage, for your children and your children's children. Do not let selfish men or greedy interests skin your country of its beauty, its riches or its romance.
Theodore Roosevelt